Advanta understands the importance of giving and receiving thanks and help. We also understand that sometimes reaching outside ourselves and touching someone when they need it most makes all the difference. Isn't that the true spirit of the holidays? Yes, we said the holidays and yes, it is October.
Not to entangle you in a string of brightly flashing lights and promises of a new year in early October, but the days are getting shorter, nights longer, and now's the time to start wrapping your head around how you plan on spreading your heartfelt message and festive cheer.
One thing is for certain, the holidays are right at the heels of our elf shoes, and no amount of wishing to Santa Claus that your corporate holiday cards magically get created and sent out is going to make it happen.
Now, don't give us the frosty cold shoulder since we brought up yet another thing to wrap your head around. Advanta understands it is a busy, stressful, and together filled time of the year. We know just like you do, the cookies aren't going to bake themselves, nor the cards make themselves. That's where we come in.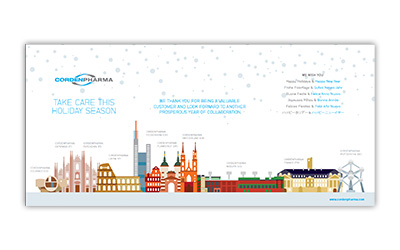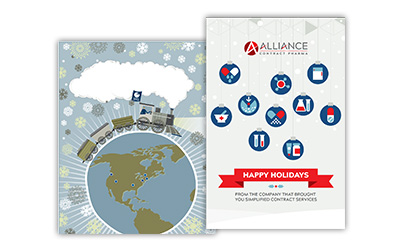 Let's face it, it has been a doozy (reindeer turd) of a year, and we all could use a little uplifting spirit, magic, and togetherness only the holiday season and the little drummer boy can drum up. So, let's strap on those big black boots with the bright gold buckle, and light a candle to be thankful that we have seven weeks in which to put on our red creative caps and create something memorable for our colleagues, peers, and clients to feel that you're not social distancing them out of your hemisphere.
These will hold new value more than prior years and have the glow of importance impressed upon them whether any of us are ready to start thinking about the holidays or the cards we have to create.
So whether you celebrate Saint Nicholas Day, Christmas, Hanukkah, Kwanzaa, Winter Solstice, Las Posadas, Diwali, or Chinese New Year let's show everyone how angelic we are, pull out the glitter and all the stops and sleigh (slay) those holiday cards together.
We'll have the hot cocoa on, doing the peppermint candy cane twist ready to assist you with your holiday card development needs.
Digital Holiday Email Blast (Design, Development, & Deployment)
Digital Holiday Animation Emailer (Design, Animation & Deployment)
Print Traditional Holiday Card with Envelope (Design & Print Management)
Print Holiday Postcard (Design & Print Management)