WE HAVE SOLUTIONS FOR EVERY STAGE OF YOUR LIFE CYCLE.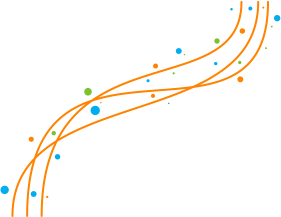 Advanta has extensive experience in brand development and management, graphic design, web design, SEO, technical writing, and advertising. In today's highly competitive life sciences environment, recognition of your company is vital to long-term success. Let us help you reach your marketing and public relations goals - contact us today.
THE ESTABLISHMENT AND REFINEMENT OF AN EFFECTIVE CORPORATE BRAND IS VERY IMPORTANT IN SEVERAL WAYS:
It helps to manage customers' and other key audiences' perceptions of your company.
It works to distinguish your company and your products from your competition.
It reflects the level of quality customers want and expect from you.
It increases your company's perceived value.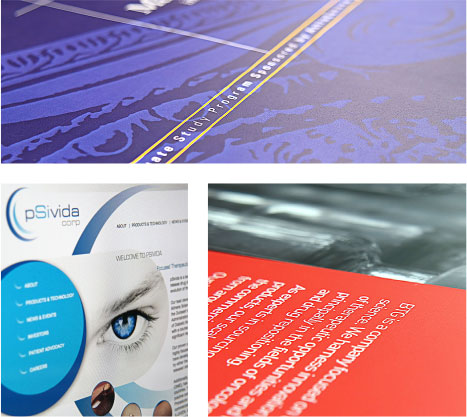 SEO
SEO is a long-term process whose implementation sees ROI typically after a couple of months after go-live and continues to bring effective results as the site ages. It is especially effective with continued maintenance, including regular publishing of relevant content.
Chiral Technologies
After Initial SEO implementation, Chiral Technologies saw a jump in Active Users almost immediately.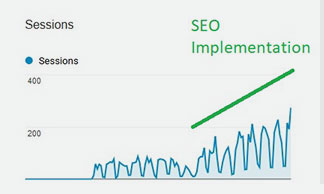 Anasazi Instruments
After Initial SEO implementation, year-over-year, Anasazi Instruments increased their Organic Search by nearly 20% and Goal Conversions by over 5%.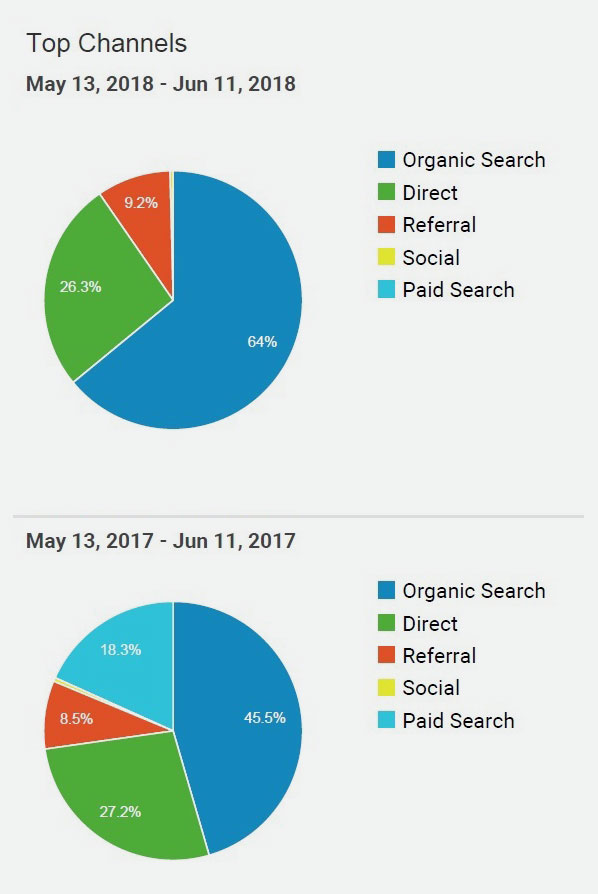 Enteris BioPharma
Enteris BioPharma continues to see high engagement (indicated by Pageviews) from its Organic/SEO (non-paid) visitors.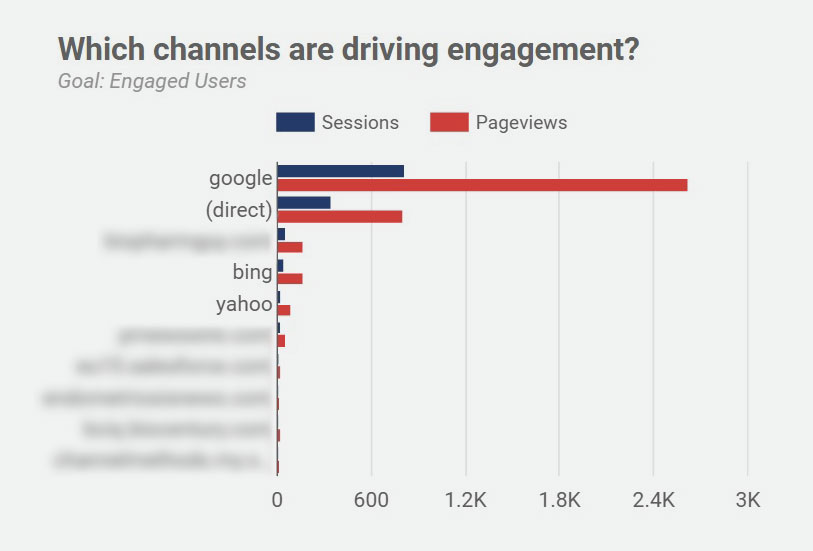 Google My Business
Reputation Management
Advanta manages many of our clients' Google My Business listings. A dashboard shows the monthly increases in views and actions taken by Google's searchers.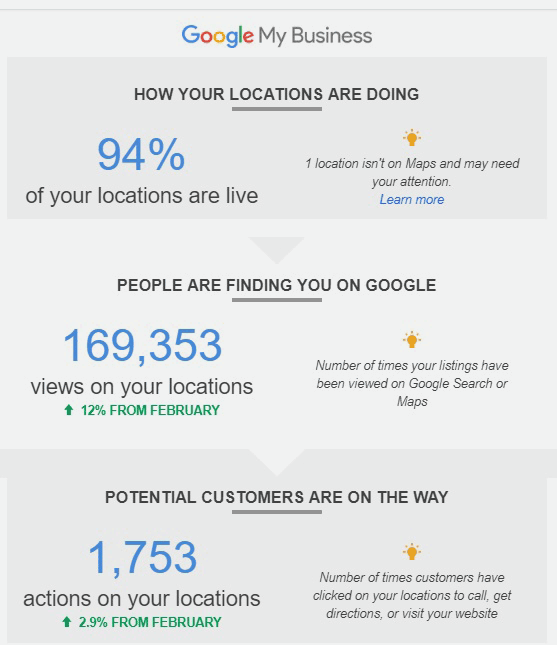 ABBOTT LABORATORIES / MEDISENSE
Sure-Dose Precision Advertising & Collateral Materials
MediSense Precision Sure-Dose syringe for children was the first insulin syringe indicated for children. The Sure-Dose syringe offers a full-length 30-gauge needle and cc dosing allowing consistent comfort and accuracy for quick site injection of insulin for diabetic care. Advanta's advertising campaign consisted of creative concepts, copywriting, brand and tagline development, graphic visual execution, media buying and print publication insertion.
ANSARIS
Corporate Brand Development
Ansaris is a technology based fragment-based drug design company with ten years of drug discovery experience. Ansaris looked to Advanta to develop their new Corporate Identity including logo, slogan, stationery website, PowerPoint Presentation, and collateral materials in order to boost investor relations and corporate interest in Ansaris's services.
ASTRA ZENECA
Sedation and Pain Management in ICU Program / Doctor Education Campaign
Astra Zeneca Sedation and Pain Management in the ICU Program was created to help the continued education of doctors of the importance of the processes of managing the pain levels in patients and proper procedures of sedating patients in the intensive care unit. The awareness campaign consisted of a Doctor Education /Awareness Brochure, and DVD Program. Our services included several creative concepts, illustration, copywriting, graphic visual execution, prepress, and print management.
PSIVIDA, CORP.
Corporate Branding Campaign
pSidvida, Corp. is a leading provider of miniaturized, sustained-release drug delivery products and is continuing the evolution of these systems. pSivida Corp. looked to Advanta to develop their marketing strategy, and new Corporate Brand Identity through their messaging, and new visual branding strategy. Included in this strong visual branding package were corporate messaging, copywriting, creative brand development, tagline, logo mark, PPT presentation, website, and corporate collateral material development.
BTG INTERNATIONAL, INC.
Corporate Branding & Tradeshow
British Technology Group, Incorporated, a pioneer in medical patent licensing and specialty pharmaceuticals looked to Advanta to create their International Corporate Identity Campaign and new branding strategy to help seed stage companies develop and commercialize products targeting critical care, cancer, neurological and other disorders. Advanta targeted BTGs niche market, then implemented visual branding, developed a style guide, PPT / Convention presentations, internet, tradeshow presentation, materials and print graphics for US, UK and Japan markets.
ENTERIS BIOPHARMA, INC.
Google Analytics Overview
Here is a brief explanation of the Google Analytics results of implementing the Advanta SEO Setup/Basic Package and Website Redesign Package against the same time-frame the prior year, without Advanta. It shows the overall improvement for one of our clients as follows:
— Sessions (total number of visitors) up by 152%
— Users/visitors by 191%
— New sessions by 19%.
The blue line is as Advanta implemented various SEO and design changes over time.
The orange line is the same period in 2014.
Natural "hills" describe the activity for this client is during a typical M-F work week with less traffic on weekends.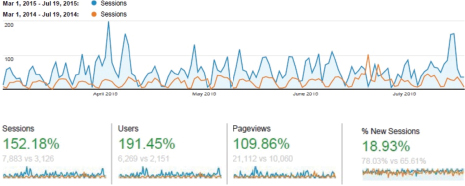 Changes are Bringing 18.93t New Visitors to the Site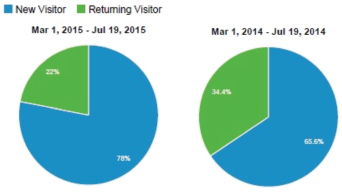 Google Analytics SEO Queries
Here is a brief explanation of the Google Analytics results of implementing the Advanta SEO Setup/Basic Package against the same time-frame the prior year, without Advanta. It shows Google not recognizing our client for relevant SEO keywords prior to implementing the Advanta SEO package vs. to-date results in the same time-frame:
Amos J. Sanchez
Associate Director, Business Development
Enteris Biopharma, Inc.
July 7, 2015
"I am just doing some quick Google searching on some key search phrases and I am quite pleased with our organic placement on Google.
Especially against some big players. Notice that we beat out Lonza for one of them!
Well done!"
EFFECTIVE CORPORATE BRANDING IS GOVERNED BY A WIDE RANGE OF FACTORS AND CORPORATE ASSETS. AMONG THEM:
A distinct graphic look used consistently in all advertising, marketing and promotional materials.
A consistent graphic style for all advertising, web sites, blogs, marketing materials, literature, direct mail, trade show displays, multimedia presentations, etc.
Consistent messaging in all communications, press releases, media relations, white papers, executive speeches and internal communications.
An all-encompassing slogan or tagline used consistently in all communications.
A consistent and intelligent approach to disclosing company news to help ensure key audiences get the word.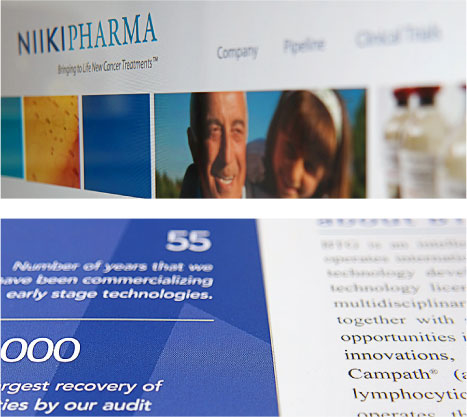 CODEXIS
Corporate ReBrand
Codexis is a Bio-Engineering company that integrates biology and chemistry manufacturing to make the production of pharmaceuticals, biofuels and industrial products faster, cleaner and less expensive. Advanta targeted Codexis's niche market, strategically implemented visual and conceptual branding through a comprehensive creative Advertising campaign in effort to broaden their global reach.
NIIKI PHARMACEUTICALS
Corporate Branding Campaign Niiki Pharma's focus is to develop targeted first-in-class treatments for cancer. Niiki Pharma looked to Advanta to develop their new Corporate Identity including logo, slogan, stationery website, PowerPoint Presentation, and collateral materials in order to boost investor relations and corporate interest in Niiki Pharma's pipeline of treatments.
ORCELL (MATRIX TECHNOLOGY FOR ENHANCED WOUND HEALING) Advertising Campaign Orcell is a skin grafting wound care healing product that helps promote skin regrowth in patients who have lost over 90% of functioning skin tissue due to either a skin disease or accidental wounding of the skin. Ad campaign creation consisted of creative concepts, photography, copy writing, tagline, graphic visual execution, prepress, media buying and print publication insertion and management.
TECH TRANSFER SOLUTIONS
Corporate Branding Development
Technology Transfer Solutions was established by a strong group of intellectual property patent attorneys who wanted to help their current and prospective clients understand the proper steps they must take to patent their Life Science technologies. Included in this easy to use and understand promotional branding package was a new Logo (brand mark), Pocket Folder which housed five Literature Sheets, a PowerPoint Presentation and Stationery Set (Business Cards, Letterhead and Envelopes).
VWR INTERNATIONAL
Corporate Branding / Learning Network Branding
When VWR International was looking to create an internal promotion to prg program and tools for further education for their employees, they looked to Advanta to promote their campaign. Included in the promotion package was a direct to VWR employee brochure clearly displayed key highlights and fundamental information for employee ease of use and understanding of program materials for their use on the Internet. Posters were added as promotional teaser to spark incentive for employees to visit the online learning network.
CORDEN PHARMA
The relationship between CordenPharma and Advanta Advertising began in 2011. Since that time, Advanta has provided the company with a variety of marketing and design support, including: creating core messaging, trade show booth and graphic design, targeted email campaigns, among other projects.

Abby Thompson, Global Marketing Communications Manager, describes why she depends on Advanta, "Advanta has a very high level of customer service. I'm picky about every detail, and Stephanie and her team respect my needs and are able to create designs and messaging for our very complex business. Advanta is very reliable and can always meet my deadlines. I have also come to rely on and really appreciate the ideas that are brought to the table and how my perspective is highly respected."

When CordenPharma hired Advanta, it had few internal marketing resources and the Advanta team was able to step in to provide much needed support. Abby explains, "In a large way, Advanta has solved our problem of limited resources by stepping in and being our partner. Stephanie and her team are there to help us tackle all the different things we need to do. They are there for us in every way – from trade shows to email campaigns – and I know that her team is capable of many other things. For example, if I needed a website created, I know they could handle that, too."

The trade show booth that was initially developed in 2011 is still in use and, combined with an ongoing conference marketing campaign, has helped increase the company's US brand recognition.
ABBY THOMPSON
Global Marketing Communications Manager
ENTERIS BIOPHARMA, INC.
When the marketing team from Enteris was preparing to launch the company, it needed a team of professionals who could develop a distinctive identity and concise core messaging. Advanta Advertising created a logo, messaging and slogan, stationery and trade show display that exceeded expectations.

Enteris chose Advanta because of its reputation and competitive pricing, and the team was impressed with the final result. "We were really happy with the level of professionalism, easy work flow process and the quality of the work. We landed on a logo that was crisp and an identity that attracted attention and set us apart from competitors. It was a great platform for launching the company," explained Tim Saxon, Vice President of Business Development.

The Enteris team believes that the identity positions the company well – now and for the future.
AMOS J. SANCHEZ
Associate Director Business Development
OAKWOOD CHEMICAL
Advanta Advertising began working with Oakwood Chemical in 2012. The projects undertaken for Oakwood included the development of a new company name and comprehensive rebranding effort complete with logo, trade show support, online support, print advertising, and collateral development.

"I chose Advanta because I was impressed at the professionalism and experience. Stephanie works with me the way I work with my customers; when I need something, she drops everything and helps. She is very customer-service oriented, just as we are. I appreciate that she's so responsive," explained Greg Butler, President, Oakwood Chemical.

The work resulted in a new identity for the company that helped Oakwood evolve and attract new business. Greg added, "We used to look like a carnival and needed to streamline our look and find continuity. Stephanie completely changed our perspective on marketing and how to approach channels like print advertising, and marketing promotions. We now have a consistent brand that represents us perfectly and gets attention from both customers and competitors, alike. We just had a record year and we attribute it, in part, to our more professional approach to marketing."
GREGORY E. BUTLER
President
CELIMMUNE
Celimmune hired Advanta Advertising to create a unique, disruptive, brand identity; as industry pioneers in their field, it was important that their brand reflected their corporate strategy and innovative therapeutic approach. Celimmune turned to Advanta because of their conceptual creativity, industry knowledge, and overall professionalism.

Celimmune's Executive Chairman, Ashleigh Palmer, explains why Celimmune selected Advanta over other potential agencies: "The Advanta team went above and beyond to deliver a high-quality branding solution that tells the story of Celimmune with custom illustrations which attract attention from patients, clinicians, and other stakeholders."

Celimmune was impressed not only by Advanta's outstanding customer service, but the creative process its team followed to conceptualize and develop a strategic full brand identity and expand that identity across Celimmune's website, advertisements, and marketing collateral in an expedited timeframe.

Palmer further emphasized: "Celimmune wanted to use art as a means to express strategic creativity, therapeutic disruption, and patient-centricity, three of the company's core values. Advanta delivered on all its goals through a creative process that was fun, yet methodical and rigorous."
FRANCISCO LEON
CEO/CMO
ASHLEIGH PALMER
Executive Chairman
ONCOVIRX
The folks at Advanta have been a true partner and a delight to work with from the start. OncoViRx is a start-up drug discovery company with a great need for top-quality corporate marketing support, but with a very limited budget. Advanta has delivered in spades by keeping our marketing needs consistent and cost-effective. Key projects have included developing our corporate logo, business cards, PowerPoint presentation, stationery set, and designing, developing, and hosting our company's website. I have enthusiastically recommended Advanta to other young biopharma companies in the Philadelphia area since we began working together, and plan to continue my recommendations for the foreseeable future.
FRANCIS HUMANN
CEO & President

ENTYTLE
There are website development companies, and then there are full-service branding and interactive companies that see the big picture. This was our experience with the team at Advanta Advertising. After having the pleasure of discussing our branding and website challenges and needs with Stephanie at our booth at Pittcon in 2016, she came back to us with a comprehensive, yet thoughtful proposal that covered everything that we needed to help grow our business from a phased approach; without including things that we did not need. We weren't sure where to start, so at our first meeting they came to us with various options and approaches to what they could do for us. They showed us many draft layouts, rebuilt the ideas based on our input, and combined our ideas with their professionalism to create exactly what we were looking for. We would recommend working with them to everyone, not only for their creativity and talent, but also their approach with their clients.

Effortlessly and quickly Advanta became an extension of our team at Entytle, guiding us seamlessly through the entire process of our website development from brand evolution, core messaging, content development, user experience, and interface design, from start to launch.

Entytle highly recommends Advanta Advertising for a no-nonsense, highly effective and value-driven brand message, visual design, website and SEO strategy that makes a measurable difference to our new business development process and customer perception.
SUJATA JOSHI
Business Operations

PARENTERAL DRUG ASSOCIATION (PDA)
DELAWARE VALLEY CHAPTER
Advanta Advertising has been an exceptional partner for PDA Delaware Valley. Advanta designed and implemented an enhanced responsive and search engine optimized (SEO) website for our organization, increasing our brand recognition in the non-profit space. As a result of this improved brand evolution and visibility, our membership has grown exponentially.

I am grateful to the entire team at Advanta for their continued commitment to our project and success. I highly recommend Stephanie Kuhla and her team without reservation.
SEAN GRIMM
President

ALLIANCE CONTRACT PHARMA
Steph from Advanta approached us during a trade show. What was so unique about our initial experience with Steph, and quite foretelling of our future relationship, was the work that Steph and her group had already put in to reviewing our current website and offering key updates in our initial meeting. It was easy for us to see the attention to detail we were going to receive as Advanta's client and ACP quickly partnered with Advanta.

We have partnered with Advanta for 7 months and have had one of the best experiences in updating our brand and website. Not only has Advanta provided leading edge design in our re-branding efforts, they have taken the time to learn our business and what is important to ACP.

They are quick to respond, excellent at helping us understand what is important, precise on the timeline and a complete overall joy to work alongside. I would extremely recommend Advanta to anyone who is looking for any marketing, branding, website design or PR help. Thanks for the great job Steph!
BENJAMIN W. REED
Vice President, Manufacturing

BREWIN ADVERTISING, INC.
Stephanie worked as Art Director for my Ad Agency, Brewin Advertising. She did an amazing job and improved our ad agency's designs and our work habits as well. Her designs were outstanding, unique and truly creative while at the same time functional ~ selling the product and brand. Always fresh and creative, hard working, smart, very ethical. She's very professional and a super nice person to work with. Great with deadlines, organizing and getting projects done - very proactive. I highly recommend Stephanie!
DOUG BREWIN
TRUTH NUTRITION / OVANTAGE
Truth Nutrition hired Advanta for our logo, packaging and website development. Stephanie and her team were fantastic to work with and blew away our expectations! We consider Advanta a trusted partner and highly recommend them.
CHRISTOPHER FARIS
CONTROL GROUP USA
Stephanie from Advanta Advertising & Design Group was hired by our company to create a comprehensive advertising campaign. We were most impressed with she and her company's ability to accumulate the necessary knowledge needed to effectively launch a successful ad campaign regarding our business of printed flexible packaging components. Not only would I strongly recommend Stephanie and her company, but I would say to anyone that is seriously considering brand / company recognition should at least consider a consultation with Stephanie and her group. You have nothing to loose, but possibly everything to gain. RUSSELL VIZZI Vice President of Sales
BIOADVANCE
As director of communications and marketing at BioAdvance, I've had the pleasure to work with Stephanie on various creative design projects. She came highly recommended by a colleague, and Stephanie has exceeded our expectations with expert knowledge and technical skills and business-driven creative design. She is a true professional who listens closely to what we need and consistently delivers projects on time and on budget.
ELLEN SEMPLE
EXONY INC.
Stephanie is great to work with. She's very responsive to the client's needs and works extremely hard to make sure the end result meets them.
SIMON BUNEGAR
BTG INTERNATIONAL, INC.
Over the past 8 years BTG has been utilizing Stephanie's conceptual, graphic, web design and print prepress services, and I have to say she is one of the best we have come across in the field. Her cost-conscience approach, attention to details and fresh creative ideas ensures we always obtain a high quality product on time and within our budget. Stephanie's commitment to BTG providing guidance, creativity and outstanding service has created a strong and successful working relationship - she has become an extended part of our team. I highly recommend her to anyone who is looking for corporate/product branding support, design, web and print production services, especially in the pharmaceutical and biotech marketplace.
COLLEEN HENRY
PRODIGAL PRIVATE SECURITY INC.
In early 2008, I was introduced to Stephanie Kuhla and Advanta and was beyond impressed with her. Stephanie immediately understood our needs and oversaw the complete rebuilding of our brand, including the logo and our website. She developed a thorough sell packet, including folder, tri-fold, multiple sell sheets and stationary set. Every step of the way, her guidance has made all the difference and when I hand her work to a potential client, the positive impact and feeling of preparedness her efforts afforded me have proven to be of immeasurable valuable.
Two years later, my company has grown by quantum leaps, adding new services and targeting new segments. Stephanie has walked with us the entire time, and even if it's simply brainstorming with her for a new facet to our marketing campaign, her energy and unswerving dedication have left indelible marks on my business.
I could not endorse Stephanie Kuhla more vehemently and I encourage any business owner to spend time talking with her, you will find an ally in an ocean of sharks.
DOMENIC GALLELLI, MS/PRESIDENT
Ms Kuhla and her company, Advanta Advertising, was retained by me to promote my company's business, and they created a professional, targeted brand identity and strategic web presence for EMS Consulting Group. She proved to be extremely approachable, knowledgeable, easy to reach to address questions and concerns as they arose, and provided a quality product that my business partner and I could not be happier with. Ms Kuhla is an absolute pleasure to work with. She is phenomenal at branding, messaging and marketing development, and is someone I can endorse whole-heartedly without any reservation.
JORDAN BARNETT MD FACEP FAAEM
Board-Certified Emergency Medicine Physician providing EMS Education, Consultation, and Medical Care
ENDO PHARMACEUTICALS INC.
I've known Stephanie for several years now and continue to use her graphic design services periodically with my past and present employers. She delivers high-quality work at reasonable rates. Additionally, Stephanie is very detail oriented, professional and goes above and beyond to deliver the very best results and product. Good is never good enough for Stephanie. She always pushes herself to deliver exceptional work in a timely manner. I would not hesitate to recommend her to anyone that wants creative ideas, from start to finish, and exceptional service.
LORIE MAICHER
Manager Marketing Services
THE POWERLUNCH PROJECT
I now have a great logo for my business and everyone raves about it!
SARA ROSENBERG
COVINGTON PHYSICAL THERAPY
Stephanie is an incredible person to work with. She is extremely knowledgeable about her craft and her work shows it. She has made my company stand out above the rest, with an image of professionalism and and integrity that no one else has been able to accomplish. I am very pleased that she goes the extra mile just because it is the right thing to do! Thanks Stephanie. You are a God Send!
MICHAEL HEBERT
I've worked with Stephanie several times to create and produce logos, marketing presentations, layouts for websites, brochures and more. She is incredibly hard working, creative, and reliable and produces excellent work at an amazing price. She listens to her client and understands what the client wants and will rework the product until it is exactly what you want. I highly recommend her. Especially in the pharma and biotech area, she is excellent.
MARIE LINDNER
Global Program Head, Strategic Partnership Team
ANESTHESIA ADVANTAGE
Stephanie has developed our company logo, letterhead, and brochure. She has done a great job in creating a cutting edge yet professional corporate identity. We will be using her for all our graphic needs and I would highly recommend to colleagues. Thanks Steph!
KURT HAUSNER
WOODSTOCK AND ULSTER COUNTY THE MACHREE GROUP, LLC
Stephanie is an amazing graphic designer. She took our business concept and generated an effective and stylish branding tool as our logo. I would recommend Stephanie to any firm looking for a to brand their product and will continue to utilize her services in the future.
CREE QUAKER LICENSED AS MACHREE QUAKER
Real Estate Broker
FOCUS ON AUTOMATION LLC
I worked with Stephanie several years ago as she worked with Elan's rebranding and marketing efforts. I found her to go above and beyond our expectations, always developing new and creative approaches. Also a great person to work with.
DOROTHY PETRY
Principal
VIRALYTICS, INC.
I found Stephanie to be creative and willingly to go the extra mile to give me the results I wanted. I would recommend using Stephanie's services.
BRYAN DULHUNTY
NEWLY ADDED CLIENTS
Africare Health
AlphaBeta Therapeutics
ARx
Bellco Glass, Inc.
BioGen
BioVectra
Celimmune
Center for GI Health
ChemOrganics
Chiral Technologies US | EU | India
Communications Strategies Group
CordenPharma
Cysview
Emergent BioScience
Enteris Biopharma
Entytle
FlackTek - SpeedMixers
Forsyth lnstitute
Genzyme Biosurgery
Heidrick & Struggles
HooThere
Intezyne
La Jolla Pharmaceutical
MidWest Sleep Medicine
Millipore
MyExpo
New Era - Spectro
Oakwood Chemical
OncoViRx
OrthogenRx
Patagonia Health
PlanetConnect Pharma
ProVista
Pulmonary Reach
Rieke Metals
Savitz Lifescience Law
Systems Program
SZV-Social & Health Insurances
The Colonoscopy Center
Trifecta Multimedical
Uniscience Corporation
Vantogen, lnc.
Vindon Scientific
ZafeSoft
Zenaviv
Established Clients
Abbott Laboratories, Inc.
Aetna US Healthcare
AIDS Awareness Foundation
AlgoRx, Inc.
American College
American Pharmaceutical Association
Anatomical Pathology Courier Service
Androderm
Anesthesia Advantage
Ansaris
Apotheke
AstraZeneca
BioAdvance
BioValue Creation LLC
Bioview
BTG International, Inc.
Cappello Capital Corp.
CK Life Sciences
Clarity Strategies Group
Clementia
Codexis
Compas Inc.
Control Group Inc.
ConvaTec, Inc.
Conventional Wisdom
Corridor Pharmaceuticals, lnc.
Covington Physical Therapy
CRC Industries. Inc.
Dental Reach
EcoErase 2.0
EMS Consulting Group
Elan Pharmaceuticals, Inc.
Ethex (Wound Care Healing)
Excess Return Strategies
Galleon Pharmaceuticals
GlaxoSmithKline
I\/I International, Inc.
IEC. Inc.
Impact Rx, Inc.
Johnson & Johnson Merck
Johnson & Johnson Purpose
Locus Pharmaceuticals
lriScan, Inc.
Massachusetts Medical Society
Matinas Biopharma
Medicis - The Dermatology Company
MediSense, Inc. (Diabetes Care)
NCS Global
Newport Computers
Niiki Pharma, Inc.
Novira Therapeutics, Inc.
Optofluidics
OrCeII
Ovantage
Par Pharmaceuticals, Inc.
Pasture Merieux Connaught
PathoGenesis Corporation
Pfizer (Animal Health)
Philly Technology Network
Polynoma LLC
Postgraduate Institute for Medicine
Prodigal Private Security
pSivida Corp.
Quasar Light Therapy
Queen City Venture Partners
Roche Pharmaceuticals (Colorado)
Rossi Wellness Center
RP Scherer (Drug Delivery)
Schering-Plough
Smart Orthodontics
Tech Transfer Solutions
The Compello Group
The McCree Group, LLC
The Power Lunch Project
Truth Nutrition, LLC
Unigene
US Healthcare
Varisolve Inc.
Viralytics, Inc.
VWR International
WEX Pharmaceuticals
Wyeth Amherst
Yaupon Therapeutics
We are proud of the work that we do at Advanta. Even more so, we're happy to help our clients continue to get the exposure they need and deserve. Some of the clients we've worked with and continue to, have had some very impressive media coverage. Please see below for our clients in the news.
GENOME PROFILLING
Genome Profiling and Fox Chase Cancer Center will collaborate to identify a novel immune system epigenetic biomarker, dubbed EpiMarker, which if successful, will be used to help predict which lung cancer patients are likely to respond to a checkpoint inhibitor therapy known as anti-PD1 antibody.

Read The Full Press Release Here
We have experience in the following Life Sciences industries:
Analytical Instrumentation
Biotechnology
Biopharmaceutical
Chemical
Clinical
Contract Manufacturing (CMO/CDMO)
Contract Research Organization (CRO)
Drug Delivery Systems
Engineering
Healthcare
Life Science
Manufacturing
Medical Technology (Devices)
Organic Chemistry
Pharmaceutical
Pharmaceutical Packaging/Printing
Research & Development (R&D)
Technology
TechTransfer
Therapeutic