A "long-tail keyword" is at least a three- or four-keyword phrase used in quality content creation for SEO (Search Engine Optimization) to help search engines bring interested visitors to your website. Long-tail keywords that are used in combination with shorter, single keywords and phrases can help improve your website's SEO. Long-tail keywords focus on a more specific visitor and tend to support a strong ROI (Return on Investment) over a longer term. For instance, your company sells hand-crafted, blue upholstered couches. You might expect your site to rank in search engine results for "hand-crafted" or "couches" but the competition would be high for those more general terms. Bringing in the longer, "long-tail keyword" of "hand-crafted, blue upholstered couch" would naturally draw a much smaller audience, but your page selling those items would rank much higher, due to its closer match to a search. While long-tail keywords' specificity draws a lower search volume by default, the specific queries tend to bring a higher conversion rate. Your long-tail keywords draw a visitor to the exact page where you sell that product or service and they are more likely to convert into a paying customer. Our familiarity with how search engines work has helped us become more effective searchers. We tend to use long-tail keywords in our everyday searches. We now search long-tail keywords like, "find an Italian restaurant near me open for lunch". Long-tail keyword searches in the pharmaceutical industry might include, "specialty chemical manufacturer for fine chemicals" or "toll manufacturer for scalable quantities of custom chemicals".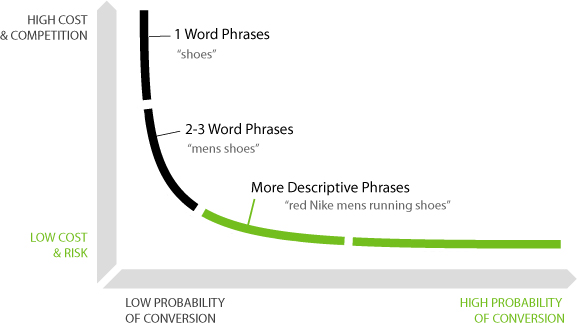 "Conversion rates are higher for long-tail keywords compared to head keywords." neilpatel.com
Beyond the Long-tail Keyword
More than the initial visitors drawn from a long-tail keyword search, your site needs to also provide related content, relevant to your audience and customers. This can be shared via a blog or customer testimonials. These personal experiences with your company often naturally tie-in long-tail keywords into the content. Your long-tail keyword products and services can also be represented by your company's social media platforms. These also help build your site's authority and can improve your search engine rankings.
More Long-tail Keyword Resources and Tools
The best place to start to research good long-tail keywords to increase your website visitors and improve your conversions is the
Google AdWords Keyword Tool
. Founder of KISSmetrics, Crazy Egg and Quick Sprout, Neil Patel shares
How to Generate 20,000 Monthly Visitors Through Long-Tail Search
on his blog with a downloadable worksheet PDF. (Incidentally, he recommends long-tail keywords be four keywords or more.) Advanta Advertising is ready to help. We use Google AdWords Keyword Tool to generate relevant keywords and long-tail keywords. Our quality SEO edits of your content help your audience find you and grow your website traffic with visitors more likely to convert. We also use SEO tools like the Mozbar add-on to help identify relevant, quality, trusted links from websites with high domain authority and page authority and
Moz Open Site Explorer
to delve deeper into a site's authority and resources. Building your site's authority and improving its search engine results for long-tail keywords is impacted by social media, too. Long-tail keywords are one tool, part of an ongoing, long-term SEO process which improves your site's content and coding to communicate effectively to search engines and bring your best audience to you.
Contact Advanta
today, we can provide you a Free SEO Audit of your current website and show you where we can make improvements to your search engine results!