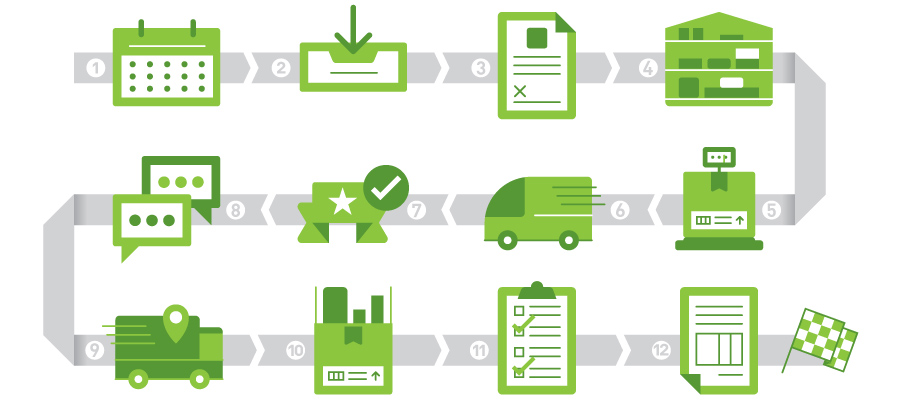 Trade Show Logistics
Logistics is the part of supply chain management that plans, implements, and controls the efficiency, flow, storage of goods, and the successful delivery of your trade show components. The importance and aspects of logistics intertwines a range of services including marketing, budget planning, team coordination, component design and development, order fulfillment, shipment receiving and delivery, inventory control, and warehouse management.
From start to finish, various departments are involved in the logistics process; including accounting, warehousing, transportation, administration, and production. This leaves plenty of room for errors to occur, which is why your trade show logistics need to be handled with special attention.
Advanta can take the stress off your plate with our keen eye for detail, experience in the industry, and knowledge of the many tasks involved; streamlining your trade show logistics process and allowing you to focus on what you do best!
From start to finish logistics planning
1.

Planning for Yearly Trade Shows

2.

Receive Request for a Show

3.

Create Work Order

4.

Pull Items from Inventory

5.

Weigh & Schedule Roundtrip Shipping

6.

Send Out Shipment (Pre-Show)
7.

Confirm Delivery of Items to Show Warehouse

8.

Communication with Team During the Show

9.

Tracking of Post-show Shipment

10.

Receive Return Shipment

11.

Update Inventory Levels

12.

Submit Final Invoice
---
Trade Show Logistic Packages
Below, you will find an overview of our lifesciences trade show/shipping logistics and warehouse management services. These packages will work to streamline processes and provide additional support to your company's current trade show logistics program, leaving you more time to focus on your new business efforts and exhibiting company presence.
We have three (3) cost-effective packages to fit your specific needs and budget:
---
Logistics PACKAGE 01:


Exhibiting Logistics, Team Registration, Shipping/Receiving & Warehouse Management (All-Inclusive)
Exhibiting & Attending Logistics (Including Booth Ordering)
Team Personnel Registration
Initial Inventory & Database Setup
Monthly Warehouse Management (Storage)
Monthly Show Management & Shipping Logistics
Monthly Inventory Management
Banner (Cartridge) Swaps
Photographs (Staged Banners & Packing Process)
---
Logistics PACKAGE 02:


Exhibiting Logistics, Shipping/Receiving & Warehouse Management
Exhibiting & Attending Logistics (Including Booth Ordering)
Initial Inventory & Database Setup
Monthly Warehouse Management (Storage)
Monthly Show Management & Shipping Logistics
Monthly Inventory Management
Banner (Cartridge) Swaps
Photographs (Staged Banners & Packing Process)
---
Logistics PACKAGE 03:


Shipping/Receiving & Warehouse Management Only
Initial Inventory & Database Setup
Monthly Warehouse Management (Storage)
Monthly Show Management & Shipping Logistics
Monthly Inventory Management
Banner (Cartridge) Swaps
Photographs (Staged Banners & Packing Process)